Car & Leather Renewal Coating
 
SHIPPING & DELIVERY 
  Express Tracked Shipping
  Ships In 24 Hours
HERE IS A QUICK AND EFFECTIVE WAY TO EASILY WIPES AWAY CONTAMINANTS WITHOUT HARMING THE LEATHER AND TO REFRESH YOUR CAR EASILY!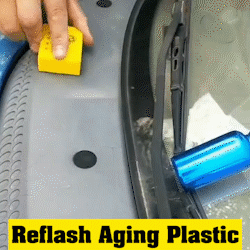 This Car & Leather Renewal Coating can deeply penetrate into the leather and car panel's pores to remove the dirt and grime that are deeply engrained.  
It can easily wipe away contaminants without harming the car. It is also made from eco-friendly materials that use an oil-free formula that is harmless and odor-free. It ensures no damage is caused to your car or other items.
Cleaning once with the use of the Car & Leather Renewal Coating can result to last a long time and will be saving you a lot of maintenance costs. Safe to use on other products like coats, sofa, and bags.