Description
Peel and twist cable wires quickly and perfectly.
The wire twisting tool is perfect for all wire twisting job. It provides better twisting effect and increase productivity while keeping you safe and preventing sore fingers and cramping hands.

This also peels off the insulating coat of wires before twisting!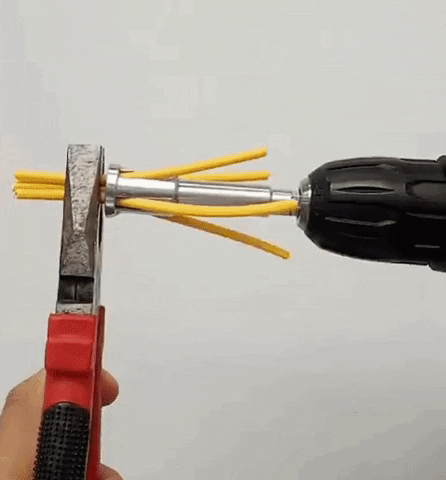 Features:
Stripping And Twisting Tool:
Spontaneously peel off the insulating coat of wires before twisting them. To get things done with the least steps.
Increase Productivity With Quality:
This allows you to turn the cable wire quickly and beautifully making you improve your efficiency and make your work easy.
Heavy Duty Twisting Tool:
Made of high quality high speed steel making it durable with good performance and high precision.
Easy To Operate:
The wire twisting tool can be attached to a power drill and functions easily and effectively with simple steps.
Wide Application:
Perfect for any wire twisting job. This Support clockwise, counterclockwise operation.
How To Use:
Fix the  Cable Wire Stripping and Twisting Tool to the hand electric drill, and arrange the several wires to be aligned;
Insert the wires into the corresponding slots in turn, and use forceps to clamp the wires tightly near the connector;
Start the pistol drill, press the point of force forward, and pull it out that rotates for less than one second.
Specifications:
Can connect 3 wires in a time, it is very convenient and connect lines safe and efficient.
Size: Suitable for 2.5 and 4 Square
Material: Steel
Suitable: for Power Drill Driver
Material: Steel
Includes:
1 x 2.5 to 4 Square Cable Wire Stripping and Twisting Tool