FOND OF CARPENTRY PROJECTS BUT STRUGGLING TO WORK OUT ANGLES AND JOINTS??
Our Revolutionary carpentry tool combines the features of a combination square: bevel, protractor, digital level, and speed square into one compact and portable tool. The blade can be rotated to the required angle, then extended or retracted to the desired depth before clamping it in position with the BLADE LOCK. The SQUARE LOCK can be engaged to complement a combination square, before locking the blade depth with the BLADE LOCK. The front outer edge features a degree scale, plus a traditional rise/run scale set into the front face. The back is calibrated for hip and valley cuts, featuring angle scales calibrated with each of the front scales.
MARK ANGLED CHECKOUTS IN ANY CONFIGURATION!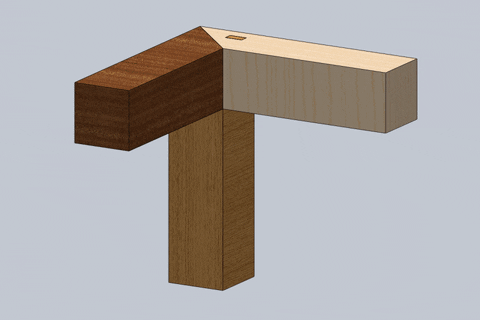 Features&Functions:

Seat Cuts: Automatically provides precise and repeatable seat cut angles like no other tool available,thanks to our patented design geometry
Rafter Layout:Mark repeatable plumb cuts and complete birds-mouths in rafters without adjusting the tool in any way
Angle Scales: Mark precise hip and valley rafters for degree pitched roofs using our unique HIP-VAL degree scale. This includes an imperial rise and runs Pitched Roofs
Angle Measuring: Mimic a digital spirit level with Revolutionary carpentry and measure the angle of a single surface with precision using its level vials anywhere in-between horizontal and vertical
Leveling: Provides vertical, horizontal, and 2D horizontal leveling capability without any adjustment, plus pitch setting capabilities to level up and set a workpiece to any angle between horizontal and vertical using its level vials
Angled Depth Marks: Mark plumb cut or seat cut marks repeatably to a specific depth, improving efficiency and working accuracy.
And More...

Key Differentiators:

Just 1 tool:

 

Convenient, Efficient, and Compact
Less Walking:

 

Instantly adjust the tool rather than fetching another
Patented design:3 to 5 times more useful than any other design available
Cost savings:

 

Brilliant value for money replacing numerous tools with one
Simplified education:

 

Easier learning, easier teaching
Use Cases:

Roof framing, general timber framing&stairs
Fixing carpentry(doors,shelving&Interior fit-outs)
Decking&timber flooring
Shipwrights(Ship, yacht and boat building)
Roof plumbing(Roof sheeting,flashing&guttering)
Boiler making
Luthiers(Musical instrument making)
Metal fabrication&engineering
Couturier(Dressmaking and upholstery)

Specification:

Color: silver
Material: aluminum + stainless steel
Size: 13.77*2.91inch
Weight: 203g
Measurement Accuracy: 100%
Package includes:

1 × Revolutionary carpentry tool